The reception or the lack of it, of the concepts of Rudolf von Jhering in the English speaking world
Outline of Bill Bowring's presentation
Ivanovo State University, Russia, 25 September 2020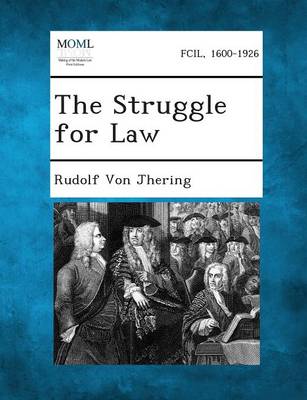 There are only two translations of Jhering's work in English. Jhering's masterpiece, Geist des römischen Rechts (The Spirit of Roman Law) 1852–1865, in two volumes has never been translated. The two translations are Der Kampf ums Recht (1872) and Der Zweck im Recht (1877–1883).
Both were published in the USA, the first as The Struggle for Law, translated from the 5th edition by the attorney John J. Lawlor, and published in Chicago in 1879. There is a facsimile edition published in 2017. The second was published as Law as a Means to an End, translated by Isaac Husik, and published in New York in 1913, with a reprint in 1968. This is hard to find.
Nevertheless, I have found at least 20 scholarly articles in English in which Jhering is mentioned, and in some of which his work is discussed in detail.
What is the nature of Jhering's contemporary reception? And why have the two English translations appeared only in the United States?
The reason is to be found in an article published in 2012 in the Tulsa Law Review, by three scholars at the University of Connecticut and Fordham Schools of Law, Julie Grisé, Martin Gelter, and Robert Whitman. Their article is entitled "Rudolf von Jhering's influence on Karl Llewellyn", that is, Jhering's influence on the American Realist Legal School. Karl Llewellyn (1893 to 1962) was fluent in German, and indeed fought on the German side in WWI, winning an Iron Cross. He is best known for The Bramble Bush: On Our Law and Its Study, 1930, republished in 2009 by OUP.
This school no longer dominates US jurisprudence, but the authors cite President Obama, a lawyer, in 2009 in relation to an appointment to the Supreme Court: "Iwill seek someone who understands that justice isn't about some abstract legal theory or footnote in a case book, it is also about how our laws affect the daily realities of people's lives, whether they can make a living, and care for their families, whether they feel safe in their homes, and welcome in their own nation." Realism!
What was this influence?
First, according to the authors of the article, was Jhering's crusade against conceptual jurisprudence – his campaign against the use of "heavenly concepts" to solve real problems, and juristic work driven by purpose, not invisible concepts. For Jhering, the life of the law was experience, not logic: law had to be functional.
Second, Llewellyn leaned about purposive interpretation from Jhering. The language of a statute was relative, not absolute, must be understood in terms of its context: law was a means to preselected social ends.
Third, Llewellyn's views on the judicial function – that law is merely a prediction of what the courts will really do.
The American Realist School has in turn had a profound influence on Critical Legal Studies, which remains a major school of jurisprudence in the US and UK.
One aspect of this is the "indeterminacy thesis", which emerged as a left-wing reply to Ronald Dworkin's contention that there is a "right answer" to each legal problem. In its strongest form it is an extreme version of legal realism. It argues that nothing is law until it has been promulgated by an official – either a judge or the legislature.
Duncan Kennedy of Harvard Law School is a leading Critical Legal scholar. In an article published in 2000 in the Colombia Law Review, on Lon Fuller, placing Fuller's analysis of contract questions in the context of the critique of the 19th century will theory of contracts, and the rise of sociological jurisprudence and legal realism.
In a footnote Kennedy says: "Between 1972 and 1975, I read Rudolf von Jhering's The Spirit of Roman Law (in French translation) because Fuller had cited it. Jhering's seemed to me a much better, indeed an unutterably brilliant, take on the issues Fuller discussed, and this greatly reduced my admiration for Fuller. My article downgrades him for this reason."
Interest in Jhering is not only to be found in the US. In 2009 Neil Duxbury, now Professor of English Law at the London school of Economics, published an article in the prestigious Oxford Journal of Legal Studies entitled Jhering's Philosophy of Authority. His starting point was that during the 20th century Anglo-American legal philosophers saw Jhering either as the German forerunner of American legal realism, or as an early proponent of a jurisprudence of interests. In Duxbury's view Jhering's goal was rather to explain how legal systems originate, and how they maintain authority. His originality was in the concept of Rechtsgefühl, that authority depends on citizens' feelings of what is right and just. He believed that the authority of a legal system depends on its ability to negotiate and accommodate struggles based on feelings of right. Struggles between citizens, between citizens and the State, and between States.
My curiosity was aroused by the following.
In the Kampf, Jhering is full of praise for the "combative Englishman" – "the typical figure of the travelling Englishman who resists being duped by inn-keepers and hackmen, with a manfulness which would induce one to think he was defending the law of Old England.. For, in the few shillings which the man here defends, Old England lives." (p. 62) and later "in the shilling he stubbornly defends the political development of England lives." (p.94) All of this is to illuminate the "healthy feeling of legal right".
In the Zweck, I noted Jhering's powerful critique of the liberalism of John Stuart Mill (p 403 to 409), having denounced socialism and communism as "vain folly" (p.396) and referred to "so-called class struggle" p 410. To me the Zweck seems curiously detached even from the world of the second half of the 19th century, and most references are to Roman law.